Welcome to Ninja Training TV - The Premiere Provider of High-Quality Bujinkan Digital Training Courses
Developed by 15th Dan practitioner and Dai Shihan Mark Roemke, a member in the Shidoshi Kai teachers association of the Bujinkan.
We specialize in in-depth courses for people around the world, whether you're looking to earn rank or just practice to enhance your martial arts skills, we have something for you.
Train from White to Black Belt, learn Japanese Sword, Rokushaku Basics, Hanbo Basics, Kyoketsu Shoge Basics, Kusari Fundo Basics- 10,000 Power Chain, Shuriken Basics, and more.

The Complete White Belt to Black Belt: Bujinkan Ninjutsu
The most complete and current Ninjutsu course available on the market today!
Learn the Martial Art of the Ninja
Train from White Belt to Black Belt
Train in Ninja and Samurai Weapons, Modern and Ancient
Practice and Earn Rank from Home
Detailed, High Definition Instructional Videos
Digital Download or Online Streaming Format
Includes six schools of Samurai and three schools of Ninpo (Ninja)
Join the Japanese Bujinkan organization
Join Shihan Roemke's private FaceBook page
Included: Membership in Dai Shihan Mark Roemke's Online Dojo
Finding a high level Ninjutsu instructor hasn't always been easy. Now Dai Shihan Mark Roemke has made it possible for you to receive legitimate Ninjutsu training, and to advance in rank, all from your own home. You can purchase Ninja Training TV's training videos for entertainment or you can officially become Dai Shihan Roemke's student by buying any Ninja Training TV video and joining the Japanese Bujinkan organization through Ninja Training TV. If your goal is to earn rank, you will study and perform the curriculum with each White Belt to Black Belt  training video until you are comfortable demonstrating all techniques taught in your level, and you will be given instructions on how to take a video of your test and upload it for Dai Shihan Roemke's evaluation. If you are interested in individual use and mastery of various ninja and samurai weapons, Dai Shihan Roemke offers instruction from beginner to advanced, offering techniques and methods to allow you to practice at your own pace with the specific weapon, while improving your basic taijutsu skills.
FULL SET - $249.99
Also available as Individual Videos
Ninja TV Free Video Library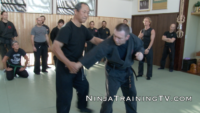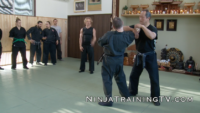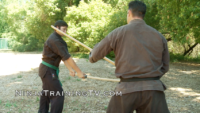 Meet Dai Shihan Mark Roemke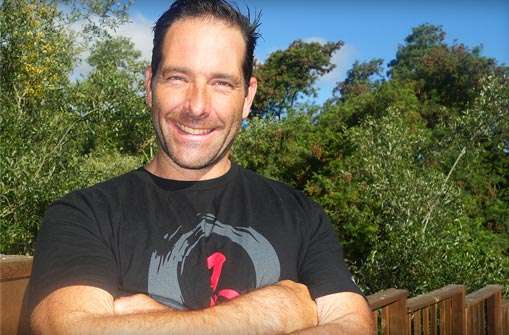 Dai Shihan Mark Roemke is your master teacher on Ninja Training TV.
Licensed to teach by Ninjutsu Grandmaster Soke Hatsumi
20+ years of teaching experience
15th Dan Practitioner
Created the Santa Cruz Bujinkan Dojo
Former New York State Tae Kwon Do Champion
Served in the US Army 10th Mountain Infantry unit